LPG cylinders
Cylinder gas from DrachenGas – the right cylinder for everyone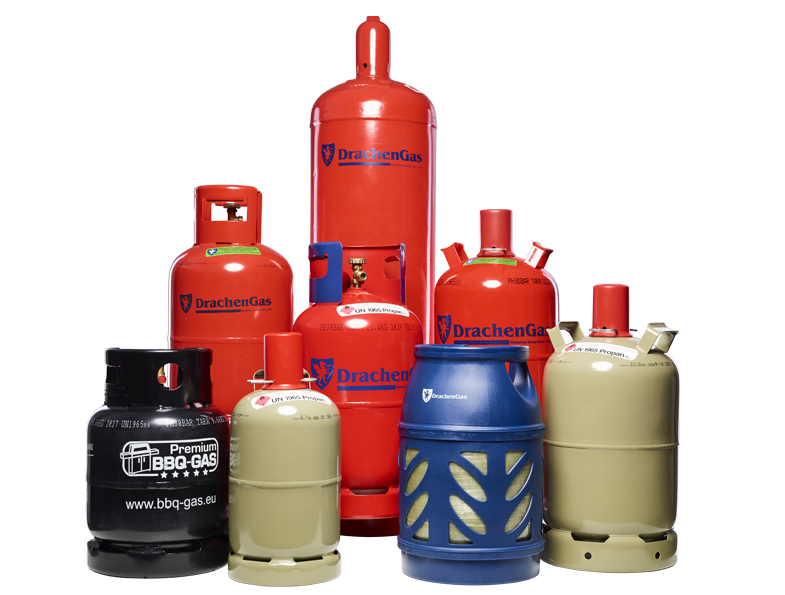 DrachenGas liquid gas cylinders are made of high quality steel. They are safe, easy to use and easy to transport. They are tested and filled in our technical facilities with the most modern equipment in compliance with regulations and the highest environmental safety standards. We only supply liquefied gas of certified quality according to the requirements of DIN 51622, combined with a high level of safety and quality management.
DrachenGas LPG in cylinders can be used everywhere where you would like to use practical energy for the most varied of applications, either privately or commercially. There are no limits on the possibilities of use: whether for construction drying, weed eradication, cooking, barbecue, DIY, camping and much more. The environmentally-friendly energy is not linked to one location and can simply be transported to the desired area of use.
DrachenGas cylinder gas is available in the common sizes 5, 11 and 33 kg and as an 8 kg barbecue bottle through our service offices, regional representatives and sales offices. You can get DrachenGas from over 2,000 partners throughout Germany.
There are two types of LPG cylinders:
The camping cylinder (grey)
The camping cylinder (steel or aluminium gas cylinder) is excellently suited to private use at home, in the garden and when camping. The customer becomes the owner of the cylinder. This can then be filled in all of Germany or exchanged for a full camping cylinder.
| QUANTITY OF LPG CONTAINED [kg] | TARE [kg] | TOTAL WEIGHT [kg] | DIMENSIONS DxH [mm] |
| --- | --- | --- | --- |
| 5kg camping cylinder | 6,6 | 11,6 | 229×505 |
| 11kg camping cylinder | 13,1 | 24,1 | 300×600 |
| 6kg aluminium cylinder | 3,7 | 9,7,4 | 300×390 |
| 11kg aluminium cylinder | 5,4 | 16,4 | 300×575 |
The deposit cylinder (red)
The deposit cylinder is suitable for commercial and time-limited use. The deposit cylinder is the property of the supplier. The cylinder can only be filled by the owner of by partners authorised by the owner. This guarantees the quality of the gas and ensures that legally prescribed checks have been carried out. When the customer picks it up, they pay a deposit which is refunded to them when they return the cylinder.
| QUANTITY OF LPG CONTAINED [kg] | TARE [kg] | TOTAL WEIGHT [kg] | DIMENSIONS DxH [mm] |
| --- | --- | --- | --- |
| 11kg deposit cylinder | 13 | 24 | 300×600 |
| 33kg deposit cylinder | 35,5 | 68,5 | 318×1.290 |
| 11kg engine gas cylinder | 14 | 25 | 300×600 |